Bangui, Central African Republic
by Satt Reporter
* EU prepares to send troops
*International donors pledge $496m
Catherine Samba-Panza elected as interim president, and EU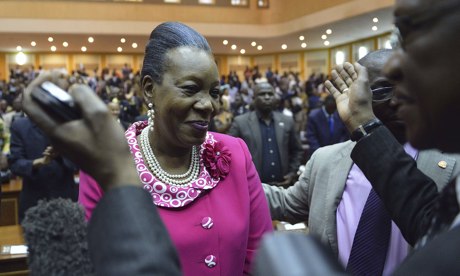 Catherine Samba-Panza is congratulated by
National Transitional Council
members after being elected interim president of the Central African Republic. Photograph: Eric Feferberg/AFP/Getty Images
European foreign ministers have taken a step towards deploying an EU military force to assist French and African troops trying to quell anarchy and bloodshed in Central African Republic.
France, which sent 1,600 soldiers to CAR last month, has asked for support and on Monday foreign ministers of the 28-nation European Union agreed on a "crisis management concept" – a multinational European force that would be active for six months and tasked with helping to stabilise the situation in and around Bangui, CAR's capital. Where the soldiers are to come from has not yet been addressed.

Meanwhile CAR's transitional parliament has elected the mayor of Bangui, Catherine Samba-Panza, as interim president. She has been tasked with ending months of sectarian killings and guiding the country to elections.
Samba-Panza, who defeated seven other candidates, succeeds Michel Djotodia, leader of the Seleka rebels who seized power in March. Djotodia stepped down on 10 January under intense international pressure after failing to halt inter-religious violence that has displaced more than one million people.
She was elected in a second-round runoff with 75 votes to 53 for her rival Desire Kolingba, son of the former president Andre Kolingba.

The landlocked former French colony descended in chaos last March after Seleka militia unleashed a wave of killing and looting, triggering revenge attacks by Christian militia known as anti-balaka.
Many hope the election of Samba-Panza, a figure with no links to either camp, will help to bring calm. A spokesman for a group of anti-balaka fighters who had earlier threatened protests against the vote said they were happy with Samba-Panza's election and welcomed the fact a woman had become president for the first time.
An EU diplomat interviewed before Monday's meeting said the international force, if fielded, would be around battalion strength, perhaps 400-600 troops. An official said Estonia had offered up to 55 service members and that Lithuania, Slovenia and Finland had said they were considering participating. Greece offered to host the force's headquarters.
The French president, François Hollande, has previously said Poland has offered a transport plane and the personnel to fly and maintain it.
The foreign ministers said in a joint statement: "Within its zone of operations [in and around Bangui], the military force will contribute to the regional and international efforts to protect the most endangered people and increase the civilians' freedom of movement."
They called for preparations that would allow rapid establishment of the force, subject to another authorising vote by EU states. After six months the EU detachment would hand off to African Union troops, the ministers said.
Also on Monday, international donors meeting in Brussels pledged a total of $496m (£300m) in humanitarian assistance for CAR.
The UN humanitarian chief, Valerie Amos, said: "We have a 100-day plan which is now fully funded, and now additional resources which will go toward the plan for the rest of the year. We need to work on all of them in parallel."
The EU commissioner Kristalina Georgieva said $200m had been earmarked for immediate humanitarian needs, with the remainder set aside for financing medium-term projects to help the country get back on its feet.
The commission, the European Union's executive arm, will contribute $60m, the US and France $45m and Sweden $13m. The World Bank is set to contribute $100m, and the African Development Bank another $75m.
-GuardianAfrica
Related articles