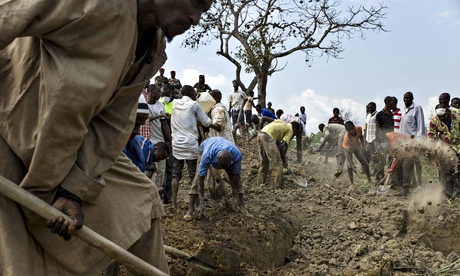 Fighting in Central African Republic (CAR) may have claimed more lives than previously thought because many Muslim victims were never taken to state hospitals and families buried their dead at home amid security fears, according to aid workers.
Violence escalated in the former French colony after the mainly Muslim Seleka rebels ousted the government of President François Bozizé in March 2013 and the Seleka leader, Michel Djotodia, declared himself president of the majority Christian country.
Médecins sans Frontières said on Wednesday that a survey of nearly 33,000 Central African refugees in neighbouring Chad revealed that 8% of those questioned had experienced the death of at least one member of their family.
Respondents reported 2,599 deaths between November 2013 and April 2014, the NGO said. A third of 3,449 families said at least one relative had been killed in the conflict; a quarter said at least two had died.
Previous estimates of the death toll, based on the number of bodies collected by Red Cross workers, had been between 1,000-2,000. Most of the dead had been killed during a resurgence of fighting in December and January.
The Seleka's rule was marked by rights abuses, which spawned a Christian militia known as the anti-balaka. Djotodia stepped down in January amid intense international pressure, but violence has continued under the weak interim government, despite the presence of about 6,000 African Union peacekeepers and 2,000 French troops.
The UN estimates that 1 million people have fled their homes in search of security – nearly a quarter of the population. About 390,000 of that number are refugees.
"Nobody really knows the death toll in CAR, but now at last we have some figures," said Yann Lelevrier, MSF's regional operational representative. "The report raises the point that even if we have had a lot of progress, the violence is still worrying."
Giovanni Cassani, regional emergency response coordinator at the International Organisation for Migration in CAR, said many people had opted to bury relatives near their homes because of security fears. "Others in the Muslim community take their dead straight to the mosque where they are read prayers by the imam and then buried nearby. The Red Cross and state hospitals will have no record of them," he said.
Gaston Mackouzangba, spokesman for the CAR's transitional government, said the security situation in the capital, Bangui, had improved but violence in the provinces was continuing, particularly around the central town of Bambari.
-The Guardian
Related articles