By Staff Reporter

Chinese Premier Li Keqiang has wrapped up his three-day visit to Kenya while also ending a week-long trip to Africa. The last leg of Premier Li's visit saw the signing of an agreement to build a railway linking the Kenyan capital Nairobi with Mombasa, the country's second biggest city and an important Indian Ocean port.
The first phase of the railway project will cover 609 kilometers, and cost about 3.6 billion U.S. dollars. Ninety percent of the financing will come from the Export-Import Bank of China.
The railway project marks the beginning of a continent-wide rail network that will connect six countries in East Africa. Premier Li says economic growth in East Africa needs support from such infrastructure as railroads, a sector where China has considerable experience and capacity.
"We hope to see further growth in the manufacturing sector in African countries, in particular labor intensive industries to generate more local jobs, especially for young people," Li said in an interview.
"We need to work together to enhance cooperation in infrastructure development that will greatly boost mobility and market development in Africa and also facilitate relocation of appropriate manufacturing industries to African countries to help them enhance their capacity for the processing of raw materials and agricultural products, and in the end, boost African exports to global markets."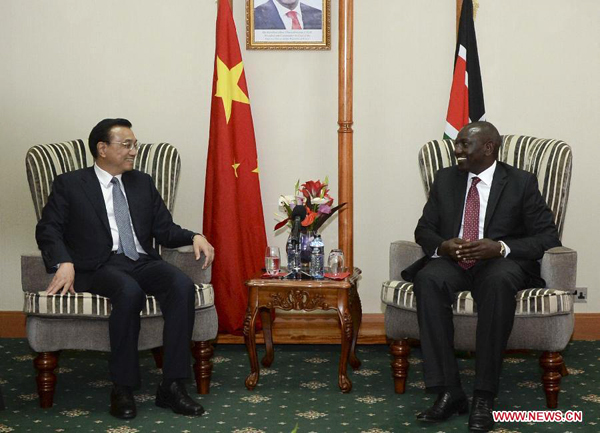 Chinese Premier Li Keqiang (L) meets with Kenyan Deputy President William Ruto in Nairobi, Kenya, May 11, 2014. (Xinhua/Li Xueren)
-CCTV
Related articles