By Staff Reporter
President Sisi unveils project to add 45-mile parallel lane to allow more ships to use the freight thoroughfare each day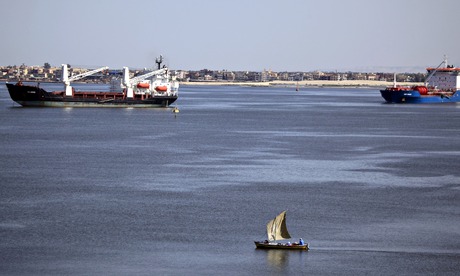 Egypt plans to add an extra lane to the Suez canal, one of the most important thoroughfares for world trade, in an attempt to increase the number of ships using the canal each day.
The Suez canal, which allows ships to travel from Europe to Asia without passing southern Africa, currently only provides for one-way traffic, with occasional room for ships to pass each other. A new 45-mile (72km) lane, plans for which were announced on Tuesday by Egypt's president, Abdel Fatah al-Sisi, would allow ships to travel in both directions for just under half of the canal's 101-mile length.
"This giant project will be the creation of a new Suez canal parallel to the current channel," said Mohab Mamish, the chairman of the Suez Canal Authority, in a televised speech.
According to Egypt's main state news website, Mamish hopes the new channel will be working within a year, but the likelihood of such a quick turnaround is by no means certain. It is also unclear to what extent the expansion would speed up the canal's operations, said Angus Blair, a Cairo-based analyst who has followed the project's development.
"They are only increasing capacity in a part of the canal, so the merits of it still have to be weighed up," said Blair, the president of the Signet Institute, an economic and political thinktank. "They are essentially turning a motorway into a single-carriageway halfway through."
In a speech to the nation, Sisi said the project would receive no foreign financing, and hoped its $4bn (£2.4bn) cost would instead be offset by independent contributions from individual Egyptians. "We want all Egyptians to hold shares in this project," said Sisi on Tuesday.
Once its cost is recouped, Sisi hopes the project will provide a lasting ballast to Egypt's ailing economy. Revenues from the existing Suez canal, which usually total around $5bn every year, are already a crucial source of foreign currency for the Egyptian economy, which has been battered by three years of political instability that have ruined the country's tourism industry and frightened away western investors.
The canal is also of great symbolic importance to Egypt. Opened 145 years ago, the canal remained under colonial control until 1956, when Egypt's then president Gamal Abdel Nasser finally wrested it back into Egyptian ownership in an episode that remains a source of deep national pride.
-The Guardian
Related articles