By Staff Reporter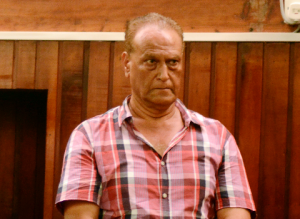 Mohammed Shahid Butt was accused of funding terror in Mombasa
Unconfirmed reports suggest Mohamed Shahid Butt, owner of the Modern Coast fleet of buses was on Friday night at around 8.15pm shot dead
The crime took place about 300m from Changamwe police station, in Mombasa.
Mohamed was traveling in a Nissan Sports car, registration KBW 299N, with his 30-year-old son Haroun Butt when a black car overtook and blocked their way.
Two men got off the car, walked up to them and shot Mohamed at close range.
The son, who family said had been picked from the Moi International Airport in Mombasa was slightly injured during the incident.
He was said to have just arrived from London.
The scene of crime was not cordoned off and a motorcyclist who witnessed the shooting was not taken in for questioning.
Mohamed, who owns a chain of businesses in the country, was on 27 December, 2013 charged alongside Abdulaziz Ahmed Essak with funding radical youths in Majengo to terrorize preachers and other Muslims.
Mohamed Shahid Butt was driving back from the airport on Friday evening when his car was blocked by another vehicle and two gunmen opened fire.
Mr Butt was due to appear in court next month charged with funding the radicalisation of Muslim youth.
On the coast near Mombasa there has been a string of killings of people associated with Islamic extremism.

Series of murders
Human rights activists have accused the Kenyan government of being behind the assassinations, since few have been resolved.
The police chief of Mombasa County, Richard Kitur, told the Associated Press news agency that Mr Butt had just picked up his son at the airport before he was killed.
"What we have gathered so far is that the businessman was coming from the airport when four armed gunmen in a white private vehicle blocked his way and sprayed the occupants with the bullets, killing Butt, but his son escaped with slight injuries," Kitur said.
Mr Butt appeared in court last year over allegations by authorities of incitement and funding terrorism-related activities.
In the past two years, three well-known Muslims, who have been publicly linked to extremism, have also been killed.
-BBC & Kenyan-Thoughts
Related articles