By Staff Reporter
President to use State of the Union address to ask for continued strikes against Islamic State targets in hint that coalition fight will go on for months if not years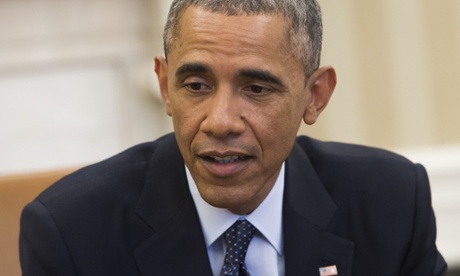 Barack Obama is calling on Congress to authorise continued military action in the Middle East, following growing criticism that his existing air strikes in Iraq and Syria lacked the necessary legally underpinning.
In excerpts from his sixth State of the Union speech released early by the White House, the president also suggests that the coalition fight against the Islamic State will continue for months if not years to come.
"This effort will take time. It will require focus. But we will succeed," he will say. "And tonight, I call on this Congress to show the world that we are united in this mission by passing a resolution to authorize the use of force against Isil."
When the strikes were first announced in September against Isis, or Isil as it is referred to by the US administration, the White House insisted that it had the necessary legal authority take military action under legislation ​dating back to ​9/11​.
But criticism has grown since of the continued failure to renew this authority, particularly since the earlier legislation was targeted at al-Qaida, not Isis, and has grown to include increasing use of US ground forces.
Officials have acknowledged that they would eventually need to seek fresh permission from Congress but have shown little sign of acting since November's midterm elections.
Obama's inclusion of the authorisation for use of military force (AUMF) call in his speech is the first indication that it will contain new detail on foreign policy, following a heavy advance focus on the economy.
The president's desire to use a recovery job market as a moment to reshape the US economy is also underlined in the excerpts from his speech, which include stronger than expected rhetoric on inequality but few new details.
Obama will also ask Congress to pass new legislation to "better meet the evolving threat of cyber-attacks".
"No foreign nation, no hacker, should be able to shut down our networks, steal our trade secrets, or invade the privacy of American families, especially our kids," he will say.
"We are making sure our government integrates intelligence to combat cyber threats, just as we have done to combat terrorism … If we don't act, we'll leave our nation and our economy vulnerable.
-Guardian