By Staff Reporter
Media celebrates in South Africa after scoring first against in the "Oscar Pistorius Trial" as court allows parts of the trial to be televised live
Judge Mlambo concurred with media that the trial was in public interest
Pistorius defence argued that Oscar will face trial by "public jury" denying him fair trial
Judge granted the order to dispel misconception that South African justice system favours the rich and famous
The order places limited reporting restrictions and more intrusion in the trial may still be regarded  as infringing on Oscar's right to fair trial
Judge grants permission for cameras in court but testimony of defendant and any witnesses who object will not be shown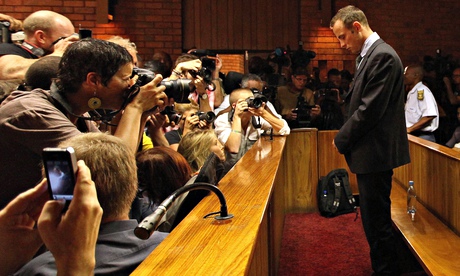 Oscar Pistorius and photographers in court during a bail hearing last summer. Photograph: Themba Hadebe/AP
Parts of Oscar Pistorius's murder trial can be broadcast live on television using three remote-controlled cameras, a judge has ruled, but the defendant's testimony will not be shown.
The high court judge Dunstan Mlambo granted permission to South African media groups to install the cameras in "unobtrusive" locations. Defence lawyers had opposed any part of the trial being broadcast, saying it would harm Pistorius's chances of receiving a fair trial.

"Court proceedings are in fact public and this objective must be recognised," Mlambo said before delivering his ruling. He said opening arguments by the prosecution and the defence could be shown live, along with the presiding judge's decision and the sentencing should Pistorius be convicted of murdering his girlfriend Reeva Steenkamp last year.
Expert witnesses' testimony can be shown but not that of Pistorius or his witnesses. Restrictions could be placed on other witness testimony if they object to being shown on TV, Mlambo said. The court would then consider showing such testimonies from behind the witness or obscuring their face.

No parts of confidential discussions between Pistorius and his lawyers could be broadcast in any way, he said in his judgment from a court in South Africa's capital, Pretoria.
He gave permission for two still cameras to be set up to take photographs inside the court, but ruled that no camera – television or still – would be allowed to record "extreme" close-up images of anyone in the court. He also said no special lighting or flashes would be allowed for any of the recordings.
A live audio feed of the proceedings will be permitted through the trial, with restrictions placed if witnesses object 24 hours in advance to their testimony being heard.
Mlambo said South African democracy was relatively young, and acknowledged a view that "the justice system is still perceived as treating the rich and famous with kid gloves whilst being harsh on the poor and vulnerable".
Enabling a larger section of South African society to get a firsthand look at the trial would go a long way in dispelling "these negative and unfounded perceptions" about the justice system, he said.
The television cameras would not be manned in court but rather controlled from another room, which could be inspected by the presiding judge, Mlambo said.
The applications to broadcast the trial were brought by a South African television news station, a cable provider that will launch a 24-hour channel focusing on the Pistorius trial, and a radio news network
Related articles