By Staff Reporter
South Sudan gunmen kidnap at least 89 boys from village near Malakal
Unicef estimates that at least 12,000 children have been taken or recruited in African nation's civil war for use as soldiers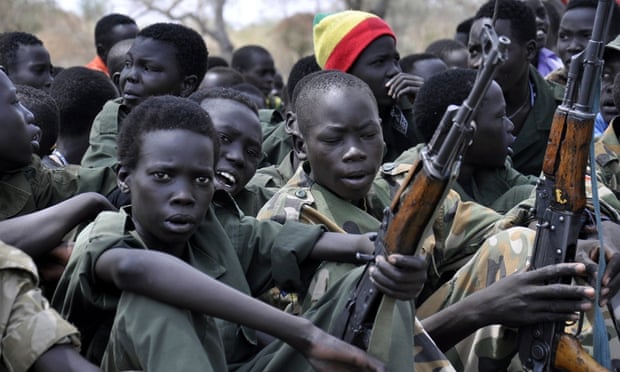 Boy soldiers on 10 February at a Unicef disarmament ceremony in Pibor, South Sudan. Photograph: Anadolu agency/Getty Images
Gunmen in South Sudan have kidnapped at least 89 boys, some as young as 13, while they were preparing to sit school exams, according to the UN.
Armed soldiers surrounded Wau Shilluk, a village near Malakal, and went house to house searching for boys and taking them away by force, according to witnesses. The total could be much higher than 89, according to a report from Unicef, the UN children's agency, on Saturday. Six teachers were also abducted.
Both sides in South Sudan's 14-month civil war have been accused of using child soldiers. Unicef estimates that at least 12,000 children have been recruited.Despite renewed promises … both sides continue to recruit and use children in combat
Human Rights Watch
It is not clear which armed group was responsible for the Wau Shilluk mass abduction a week ago. The village is a riverside community in government-held territory in the oil-rich Upper Nile state. The village has seen its population swell to about 90,000 due to a flood of internally displaced people, mostly from Malakal, a site of intense fighting that has changed hands several times.
Jonathan Veitch, Unicef's representative in South Sudan, called for the children's immediate release. "The recruitment and use of children by armed forces destroys families and communities," he said. "Children are exposed to incomprehensible levels of violence, they lose their families and their chance to go to school."
South Sudan has a long history of having child soldiers but recruitment has increased since fighting began in December 2013 when the president, Salva Kiir, accused his former deputy, Riek Machar, of planning a coup. The war rages on despite numerous ceasefire deals and with peace talks under way in the Ethiopian capital, Addis Ababa.
Earlier this month. Human Rights Watch accused both government and rebel forces of actively recruiting child soldiers despite national laws banning it. Daniel Bekele, the group's Africa director, said:
"Despite renewed promises by both government and opposition forces that they will stop using child soldiers, both sides continue to recruit and use children in combat. In Malakal, government forces are even taking children from right outside the UN compound."

The government insisted it was doing everything possible to halt such abuses. Col Philip Aguer, a South Sudanese military spokesman, said: "We are taking all necessary measures to prevent grave violations against the children of our country. We firmly believe that nothing will strengthen our country more than our children being at school."
Human Rights Watch named one of the culprits as Johnson Olony, a warlord aligned with the government who controls the area where the 89 boys were kidnapped. The community is mostly made up from members of the Shilluk tribe, the country's third biggest ethnic group after Kiir's Dinkas and Machar's Nuers. While the war in South Sudan has often pitted Dinkas against Nuers, Shilluks have largely stayed neutral.
South Sudan is the world's newest state, having gained independence from Sudan in 2011. At least 10,000 people have been killed and 1.5 million internally displaced by the war. The UN estimates that 2.5 million people are in a state of emergency or crisis, just short of famine.
Regional mediators have set a 5 March deadline for Kiir and Machar to reach a final peace agreement, but previous deadlines have been repeatedly ignored despite the threat of sanctions.
The UN last month secured a pledge for the release of about 3,000 child soldiers in South Sudan, in what it called "one of the largest ever demobilisations of children".
-The Guardian