By Staff Reporter
Ibrahim arrested with husband and two children at
Khartoum airport
one day after she was released on orders of appeal court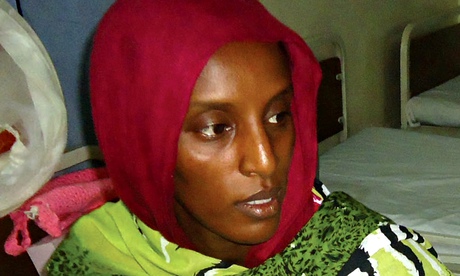 Meriam Ibrahim, the Christian woman released from death row in Sudanon Monday, has been arrested with her husband and two children at Khartoum airport, according to local media reports. Agents from the National Intelligence and Security Services detained the family just 24 hours after Ibrahim was released on the orders of the appeal court.
Ibrahim had been sentenced to death for apostasy. She insisted that she had been brought up as a Christian, despite her father being Muslim. She was also sentenced to be publicly flogged for adultery following a court's ruling that her marriage to a Christian man was invalid.
The terms of her release have not been made public, but they may have included her remaining in Sudan. An unidentified security source told Reuters that Ibrahim and her family had been arrested as they attempted to board a plane.

After her release, Ibrahim's husband, Daniel Wani, a US citizen, told the Guardian that he hoped the family would be able to start a new life in the US.
Ibrahim's case attracted international criticism, which intensified after she gave birth to a daughter while shackled to the floor of her prison cell. Her toddler son was kept in Omdurman women's prison with her.
More than 1 million people backed a campaign by Amnesty International to free her. The British prime minister, David Cameron, said he was "absolutely appalled" by her treatment. Political and religious leaders, celebrities and human rights organisations condemned her incarceration. The British Foreign Office and UK state department welcomed her release on Monday.
Amnesty said on Tuesday it was investigating reports of the family's detention.
Ibrahim was convicted of apostasy after the court insisted she was a Muslim because her father was a Muslim, even though Ibrahim said she had been brought up as a Christian after her father abandoned the family when she was six. Following her conviction last month, she was given three days to renounce her faith or face a death sentence.
Then eight months pregnant, she was told that her death sentence would be deferred for two years to allow her to nurse her unborn baby.
-Guardian
Related articles