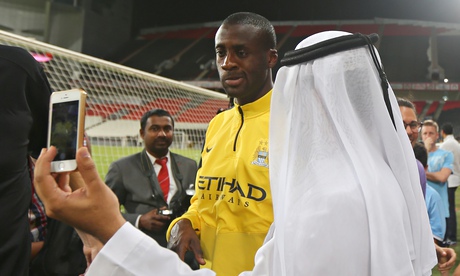 Yaya Touré has claimed Manchester City denied him the chance to spend time with his brother Ibrahim, who died of cancer last week.
Touré took part in the Premier League champions' end-of-season tour to Dubai before flying to the World Cup with Ivory Coast while his family tended to Ibrahim in Manchester.
In an interview with France Football, Touré said: "I confess that I am still very sad. I'm suffering because I feel I have done nothing useful for him the last few weeks.
"At the end of the season, I wanted to stay for four or five days with my brother before I flew to prepare for the World Cup with Ivory Coast, except that City did not want to give me a few days.
"I went to celebrate the title championship in Abu Dhabi while my brother was in his sickbed. By fortune, Kolo was at his bedside. After that I blame myself for not insisting and for not leading them to respect me.
"However, club officials knew that I had been suffering for a few months seeing the health of my brother decline. This is the reason I had several injuries at the end of the season, because my head had taken control of my body. These last four months have probably been the hardest in my life."

Relations between City and Touré have been strained of late and the Ivorian midfielder's assertion will fuel speculation the 31-year-old's future lies elsewhere.
Related articles